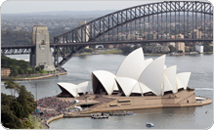 Welcome to the Blackmores Sydney Running Festival 2017
On Sunday 17 September 2017, come celebrate the 16th annual Blackmores Sydney Running Festival and help make a difference! The Blackmores Sydney Running Festival has helped raise over $15.5 million fundraising dollars since its inception.

This is your chance to run, jog or walk over the famous Sydney Harbour Bridge and finish triumphantly at the beautiful Sydney Opera House. Don't miss this chance to get outside, get active, and go the extra mile by fundraising for an amazing charity.

As well as setting up your fundraising page here, don't forget to register for the event by visiting the official website here.

Yet to create your customised fundraising page?

It's easy! Just click the Start Fundraising button on the top right corner of this page and follow the prompts.

Not taking part but still want to make a difference?

You can still play a big part in this event by supporting a friend who is running. Click on Support a Friend and find their fundraising page to make a secure online donation to their chosen cause.